İşbank
Turkey's largest private bank has chosen Cbot to pioneer in the conversational banking business
By "Ask İşbank", İşbank's customers can receive 24/7, real time answers to their everyday financial questions
Isbank: The introducer of the digital channels to banking customers in Turkey
Işbank is the largest private bank of Turkey with more than 14 millions of customers and 25 thousands of employees, has a pioneering role in the Turkish Banking industry with the legacy of being the introducer of ATM, web banking and mobile banking. Işbank also is one of the most innovative banks of Europe with its state-of-the-art products & services. The banks's vision is to provide its customers the most relevant and instant solutions ensuring the ideal level of experience via all channels. This vision directs the efforts of the bank to lead conversational banking by providing an AI powered platform. The conversational banking business, that requires advanced capabilities in AI specifically natural language processing and machine learning, constitutes a prominent part of the digitization agenda of the Bank.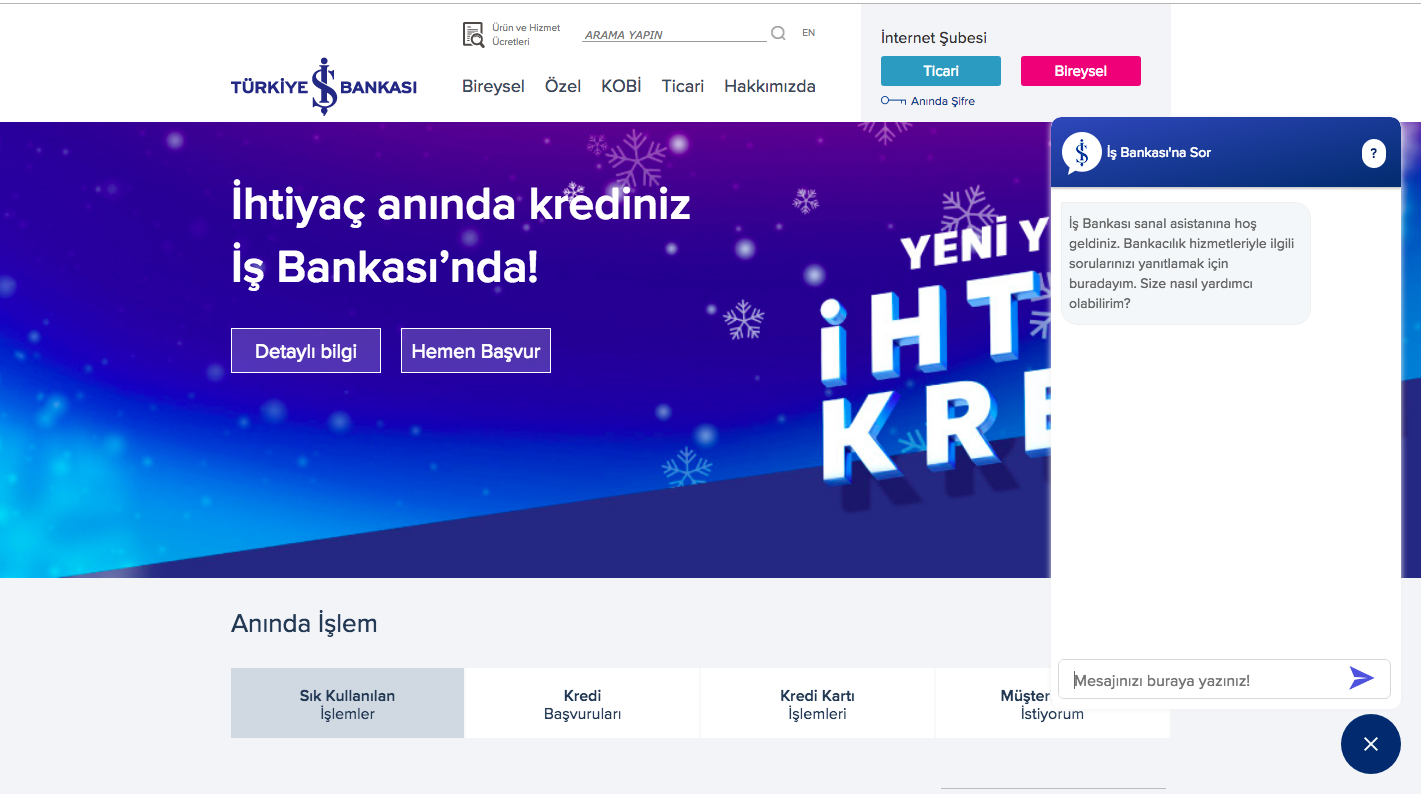 With this vision in mind, Isbank partnered with Cbot to create an AI-based text-enabled chatbot to provide  instant answers to everyday customer queries.
The result of their partnership is "Ask Işbank" the AI based "FAQ" chatbot of Işbank, helping customers through the Bank's website and Facebook Messenger.
Advanced AI Capabilities 
"Ask Işbank" uses AI, specifically natural language processing and machine learning, to anticipate the whole range of natural language text messages and provides a natural interface to web visitors.
Fluent in Turkish
It has reached 96% accuracy rate in Turkish and goes through a continuous process of training in terms of leveraging NLP.
Large coverage
Ask Işbank uses web crawling capabilities that ensures customers to reach a considerably large coverage including almost every subfield of retail banking such as calculations, currency conversions, fees & commissions, branch locations and campaign offers.